Welcome to Immaculate Heart of Mary Parish!
I am delighted to have you as a parishioner and welcome all new members to our family. I hope that you will find our parish both spiritually and socially supporting and fulfilling.
At IHM, we know that we are all individual parts of the mystical Body of Christ. Working together, we find great joy in doing God's work here on earth. I invite and encourage you to join us as we pray, work and play together.
IHM parish was founded in 1952, in response to the need for a new parish in the growing area of Andorra and Roxborough. We have a very diverse parish of approximately 2,500 families. Our beautiful church was built in 1965 and seats approximately 1,000 people. We are also blessed to have an excellent parish elementary school that serves our young people.
If there is anything I can do to help you in your journey to grow closer to God, please do not hesitate to contact me . Our parish is proud to offer many opportunities for parishioners to come together in faith. If there is a personal or family need that requires individual attention, know that our parish staff is always here to assist you.
I pray that you may find warmth and happiness in our parish. To our new members, I look forward to getting to know you personally in the weeks and months ahead. If you would like to schedule a time for a home visit and to bless your home please contact me.
God bless you and your family and welcome to Immaculate Heart of Mary Parish.
Sincerely yours in Christ,
Rev. Edward J. Casey
Pastor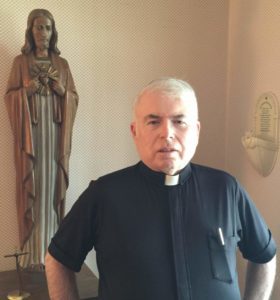 ---
15 WEEK CLUB WINNERS
WEEK 7
Taskeika Peart                               $300.00
Mary Jo Rivero                              $100.00
Lorraine Wood                               $100.00
Jakob Niederhaus                          $  50.00
Mary Waldeck                                 $  50.00
Dennis & Jeanne Mc Guinn            $ 50.00
Lawrence Huber                               $ 50.00
Mildred Mc Quade                            $ 50.00
CONGRATULATIONS!!
---
Lent Schedule:  Mass will be offered daily  at 8:30 am and 7:30 pm.  Monday, Tuesday, Thursday and Friday, Mass is in the Chapel. On Wednesday, when school is in session the 8:30 am Mass is in the Church.  After Confessions (in the Church) on Wednesday evenings Mass will be held in the Church at 7:30pm.
Confession dates during Lent on Wednesday evenings from  6:15-7:15 are March 29,& April 5th.  Confession is always offered on Saturdays from 4 pm to 5 pm. Confession will not be offered on Holy Saturday, April 8th.
Fast and Abstinence
and Other Acts of Penance for Lent
2023
The Bishops of the United States prescribe, as minimal obligatiin, that all person who are 14 years of age and older are bound to abstain from eating meast on Ash Wednesday, February 22, 2023 and on all the Fridays of Lent and Good Friday.  Further, all persons eighteen years of age and older, up to and including their fifty-ninth birthday, are bound to fast by ;imiting themselves to a single full meal on ASh Wednesday and on Good Friday, while the other two meals o those days to be light.
All the faithful are encouraged, when possible, to participate at Mass and to receive the Holy Eucharist daily, to celebrate frequently the Sacrament of Penance, to undertake spititual reading, especially the study of the Sacred Scriptures and to participate in parish Lenten devotions as well as Lenten education programs.  Adoration of the Blessed Sacrament is especially recommended.
All are encouraged to participate in Operation Rice Bowl which has aided countless hungry persons here in the Archdiocese as well as throughtout our nation and our world.
---
Stations of the Cross is every Friday during Lent at 7pm in the Chapel.  Extra Confession times are  on March 1, 8, 15, 22, 29 & April 5 from 6:15 to 7:15. After Confession on Wednesday evenings Mass will follow in the church at 7:30pm. Confession is always offered on Saturdays from 4 pm to 5 pm. Confession is NOT offered on  Holy Saturday April 8.
Easter Week Schedule
 Thursday, April 6, 2023
NO MORNING MASS
7:30 pm  MASS OF THE LORD'S SUPPER
FRIDAY, APRIL 7, 2023
3:00 pm LITURGY OF THE PASSION OF THE LORD – (The Collection will be for the Holyland)
7:00 pm  OUTDOOR STATIONS OF THE CROSS
(Outdoor Stations will begin at Houston Playground, if inclement weather it will be held in IHM Church)
HOLY SATURDAY, APRIL 8, 2023
1:OO pm BLESSING OF THE FOOD (IN THE CHAPEL)
8:00 pm EASTER VIGIL
EASTER SUNDAY, APRIL 9, 2023
MASS TIMES
7:30, 9:30 & 11:30 am
---
THE RECTORY OFFICE WILL BE CLOSED ON GOOD FRIDAY, APRIL 7.  NO BUSINESS WILL BE CONDUCTED ON THIS DAY.  THE OFFICE WILL REOPEN ON MONDAY, APRIL 10 AT 9AM.