---
Welcome to Immaculate Heart of Mary Parish!
I am delighted to have you as a parishioner and welcome all new members to our family. I hope that you will find our parish both spiritually and socially supporting and fulfilling.
At IHM, we know that we are all individual parts of the mystical Body of Christ. Working together, we find great joy in doing God's work here on earth. I invite and encourage you to join us as we pray, work and play together.
IHM parish was founded in 1952, in response to the need for a new parish in the growing area of Andorra and Roxborough. We have a very diverse parish of approximately 2,500 families. Our beautiful church was built in 1965 and seats approximately 1,000 people. We are also blessed to have an excellent parish elementary school that serves our young people.
If there is anything I can do to help you in your journey to grow closer to God, please do not hesitate to contact me . Our parish is proud to offer many opportunities for parishioners to come together in faith. If there is a personal or family need that requires individual attention, know that our parish staff is always here to assist you.
I pray that you may find warmth and happiness in our parish. To our new members, I look forward to getting to know you personally in the weeks and months ahead. If you would like to schedule a time for a home visit and to bless your home please contact me.
God bless you and your family and welcome to Immaculate Heart of Mary Parish.
Sincerely yours in Christ,
Rev. Edward J. Casey
Pastor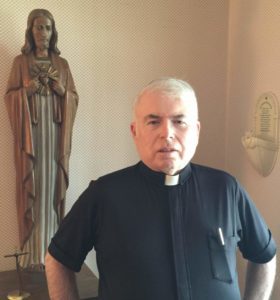 ---
EMPLOYMENT OPPORTUNITES 
Full-time Teachers Needed at IHM
Immaculate Heart of Mary is looking for certified teachers for the 2021-2022 school year.
We have a need for a part-time Spanish teacher and Tech/STREAM position.
Have you taught before?  Maybe you've raised your family and want to get back in the classroom.  Fluent in Spanish?  Do you have a Science or Tech. background and are looking to change careers?  Do you know someone who fits the bill?
If so, or you simply want to know more, please contact Patrick Foley at principalfoley@iheartmary.org or call
215-482-2029.
Substitute Teachers Needed at IHM
Immaculate Heart of Mary School is looking for Substitute Teachers.  Must have a Baccalaureate degree, complete Archdiocesan Safe Environment training and have up-to-date clearances.  (We cannot earn the degree for you, but we can help with the training and clearances.)
This is a great way to develop classroom management skills, brush up if you have been out of the classroom for a while or even discern a future vocation.  Per diem and potential long-term sub positions are available.
If you are interested, contact Patrick Foley at principalfoley@iheartmary.org or call 215-482-2029