---
Welcome to Immaculate Heart of Mary Parish!
I am delighted to have you as a parishioner and welcome all new members to our family. I hope that you will find our parish both spiritually and socially supporting and fulfilling.
At IHM, we know that we are all individual parts of the mystical Body of Christ. Working together, we find great joy in doing God's work here on earth. I invite and encourage you to join us as we pray, work and play together.
IHM parish was founded in 1952, in response to the need for a new parish in the growing area of Andorra and Roxborough. We have a very diverse parish of approximately 2,500 families. Our beautiful church was built in 1965 and seats approximately 1,000 people. We are also blessed to have an excellent parish elementary school that serves our young people.
If there is anything I can do to help you in your journey to grow closer to God, please do not hesitate to contact me or Rev. Samuel Verruni, our Parochial Vicar. Our parish is proud to offer many opportunities for parishioners to come together in faith. If there is a personal or family need that requires individual attention, know that our parish staff is always here to assist you.
I pray that you may find warmth and happiness in our parish. To our new members, I look forward to getting to know you personally in the weeks and months ahead. If you would like to schedule a time for a home visit and to bless your home please contact me or Rev. Verruni.
God bless you and your family and welcome to Immaculate Heart of Mary Parish.
Sincerely yours in Christ,
Rev. Edward J. Casey
Pastor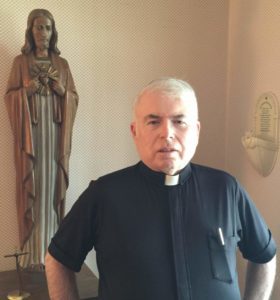 ---
           IHM Lenten Schedule
In addition to our Daily Mass at 8:30 Monday – Friday and Saturday at 8:00 am, we will offer
 7:30 pm Mass Monday through Friday,
Stations of the Cross at 7:00 pm on Fridays
Confessions on Wednesday evenings from 6:15 pm-7:15 pm
(in addition to our regularly scheduled Saturday Confessions 4pm to 5pm)
---
FAST AND ABSTINENCE
AND OTHER ACTS OF PENANCE FOR LENT 2021
The Bishops of the United States prescribe, as minimal obligation, that all persons who are fourteen years of age and older are bound to abstain from eating meat on Ash Wednesday, February 17, 2021, on all the Fridays of Lent and Good Friday (with the exception of Friday, March 19th, The Solemnity of St. Joseph, Spouse of the Blessed Virgin Mary). Further, all persons eighteen years of age and older, up to and including their fifty-ninth birthday, are bound to fast by limiting themselves to a single full meal on Ash Wednesday and on Good Friday, while the other two meals on those days are to be light.
All the faithful are encouraged, when possible, to participate at Mass and to receive the Holy Eucharist daily, to celebrate frequently the Sacrament of Penance, to undertake spiritual reading, especially the study of the Sacred Scriptures, and to participate in parish Lenten devotions as well as Lenten education programs. Adoration of the Blessed Sacrament is especially recommended. 
All are encouraged to participate in Operation Rice Bowl which has aided countless hungry persons here in the Archdiocese as well as throughout our nation and our world.
Rice Bowls are available at all the doorways of our Church, Chapel and the Rectory Office.
---
15 Week Club Winners
Week 2
Wendy Sontag $300
Helen Cyzio $100
Mary Mudry $100
Robert & Helen Veneziale $50
Mary Grace Quirus $50
Peg Malone $50
Kelley Moore $50
Tom Press $50
---
IHM is please to offer another book.  I Heard God Laugh by best selling author, Matthew Kelly to our parishioners as a Christmas gift this joyful season.  Look for your copy at the Church doorways.
2021 Calendars are also available at all the doorways.
---
St. John's Hospice is SUSPENDING their casserole program.  Unfortunately,  there was an accident with the truck and it was totaled.  Thankfully everybody is fine but they are unable to do pick-ups at this time.  St. John's have plenty of casseroles at this time because of the generosity of so many people. They also received an abundance of food on MLK,JR. DAY from several organizations.
We will let you know when they resume their program.
Thank you for all you do for Saint John's and your understanding.
---
The weekday Mass at 8:30 am will be held in church until further notice. The Sacred Heart chapel will continue to be open during the day until 6 pm as is has been.
Some general points to be made the faithful continue to be dispensed from the obligation to attend Mass on Sunday or the Holyday. If you are not well, or are uncomfortable coming out and coming to church by all means stay home. The Mass will continue to be live-streamed on Facebook at 9:30 on Sundays for the time being. We will not be using Hymnals or Missals.  Social distancing should be observed as well as wearing masks. Parishioners should bring their own hand sanitizer if they feel the need. The church seats 910 people so there will be more than enough room. Seat yourself accordingly when entering church. There is no need to be roping off pews. Use common sense courtesy with regard to social distancing, Obviously spouses and families should sit together. Receiving Communion in the hand would be prudent for the time being. At the Sign of Peace you can make a simple bow or nod to your neighbors around you.
Please note:  Mask wearing should be observed but if for some reason you cannot wear a mask please maintain social distancing.  No one can be refused entry to our Church because they do not have a mask.  This is a directive from the Archdiocese of Philadelphia.
The priest-celebrant will enter from the sacristy and return to the sacristy after Mass. We will not be greeting the people at the Cathedral Road entrance until we hit the next phase.
Right now the ushers will not be taking up the offertory collection at the usual time. There will be baskets by the altar rail, that you can place your offering in either before or after the Mass.   For the many parishioners who have been mailing and dropping off their offerings the last couple months, we cannot begin to thank you enough.  It is sincerely appreciated and has enabled us to continue to meet our parish obligations even with the large monetary drop off.
At Communion time do not all leave your seats all at once and congregate in a Communion line as usual. We can take our time leaving our pew and maintain the social distancing need. There is no hurry.  The priest is not going to rush back to the altar.

Please realize this is a very fluid situation and we will make adjustments as needed. Be kind to one another and be patient.
The parish staff is thrilled we have reached this next stage that enables us to resume the public celebration of Mass that unites ourselves to the Lord in the reception of His Body and Blood.

Father Casey
Although we have resumed Sunday Mass in the church, we are still live streaming the  9:30 Sunday Mass from our Facebook page:  (you do not need a personal Facebook page to watch the Mass.  You will be on our IHM Facebook page)
Click on IHM Facebook Page
The 9:30 Mass will be able to be viewed anytime after it airs live).
---
WordOnFire.org.  Don't forget Daily Mass is available from Bishop Barron's chapel in Los Angeles each day at 8:15 am EDT. In addition to Mass each day there are many other spiritual resources available from the Word on Fire Ministry. We have gotten much positive feedback from our parishioners who have utilized the Word on Fire Ministries. Check it out if you have not had a chance to do so.
---
This is a prayer used by the Archdiocese of Philadelphia on April 6, 2020.
A PRAYER FOR SPIRITUAL COMMUNION
My Jesus, I believe that you are present in the Most Holy Sacrament.
I love you above all things and I desire to receive you in my soul.
Since I cannot at this moment receive you sacramentally,
Come at least spiritually into my heart.
I embrace you as if you were already there
And unite myself wholly to you.
Never permit me to be separated from you.
Amen