PREPARE THE WAY FOR THE LORD – ADVENT 2023
---
IHM VIRTUAL ROSARY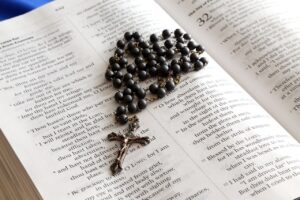 Our next virtual rosary will be this
Thursday November
30 at 7 pm.
Any intentions list them here. Here is the Zoom invite:
Armand is inviting you to a scheduled Zoom meeting.
Topic: Virtual Rosary
Time: Every Thursday at 7 PM unless otherwise noted.
Meeting ID: 896 4400 0694
Passcode: 467330
---
Travelling Statues of the Virgin Mary and the Sacred Heart
The IHM Legion of Mary sponsors a travelling statue of the Pilgrim Virgin (Our Lady of Fatima) to pray for the intentions of each family. Prayer in your home brings miracles of grace. You may schedule a visit on your birthday, anniversary or for a special intention.
A travelling Sacred Heart of Jesus statue is also visiting homes in the IHM Parish for the specific purpose of praying for vocations to the priesthood, diaconate and religious life.  We so much need prayers to support religious vocations!
For Information call Frank 215-356-3441
---
IMPORTANT NOTICE FOR ALL SCHOOL AND CHURCH VOLUNTEERS
All volunteers of our IHM School and Church must meet all Safe Environment requirements mandated by the State of  Pennsylvania and the Archdiocese of Philadelphia.  This includes all school volunteers and parish volunteers i.e. Lectors, EM, Choir Members, etc.
A list of all requirements are on the school website. Go to Resources then to Volunteer and all the links are posted there.  These clearances are FREE for volunteers.
These requirements are MANDATORY and there will be no exceptions.  These MUST be completed or you may not volunteer  in our school for any trips, dances or in house activities or any parish ministries. 
 Go to virtusonline.org then first time registrant then to list of  sessions to find one that is convenient for  you to attend.  There are classes available also through zoom.
For more information call Denise Schmidt in the Rectory Office 215-483-1000. Monday – Friday between the hours of  10 am to 2 pm or email denise-schmidt@comcast.net.
Please note:  All clearances are free for volunteers.  The State of PA requires that these be updated every 5 years.  The  requirements  of the Archdiocese only needs to be completed once.
---
---