Welcome to Immaculate Heart of Mary Parish!
I am delighted to have you as a parishioner and welcome all new members to our family. I hope that you will find our parish both spiritually and socially supporting and fulfilling.
At IHM, we know that we are all individual parts of the mystical Body of Christ. Working together, we find great joy in doing God's work here on earth. I invite and encourage you to join us as we pray, work and play together.
IHM parish was founded in 1952, in response to the need for a new parish in the growing area of Andorra and Roxborough. We have a very diverse parish of approximately 2,500 families. Our beautiful church was built in 1965 and seats approximately 1,000 people. We are also blessed to have an excellent parish elementary school that serves our young people.
If there is anything I can do to help you in your journey to grow closer to God, please do not hesitate to contact me . Our parish is proud to offer many opportunities for parishioners to come together in faith. If there is a personal or family need that requires individual attention, know that our parish staff is always here to assist you.
I pray that you may find warmth and happiness in our parish. To our new members, I look forward to getting to know you personally in the weeks and months ahead. If you would like to schedule a time for a home visit and to bless your home please contact me.
God bless you and your family and welcome to Immaculate Heart of Mary Parish.
Sincerely yours in Christ,
Rev. Edward J. Casey
Pastor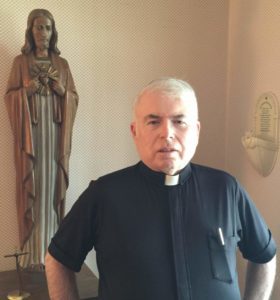 ---
I.H.M. 15 WEEK CLUB DRAWING
WEEK 14 WINNERS!!!
Jaime Moore   $300.00
Sarah Hutchinson $100.00
Sandy Weiss  $100.00
Johnathan & Brnwen O'Donnell  $ 50.00
Sharon Lotuacco  $50.00
Dennis Slobodian  $50.00
Marcinek Family   $50.00
Kathleen Romano   $50.00
---
ASCENSION OF OUR LORD
MASS SCHEDULE
WEDNESDAY, MAY 25 – 5:15 VIGIL
THURSDAY, MAY 26 – 8:30, NOON & 7:30 PM
(THIS IS A HOLYDAY OF OBLIGATION)

---
RACE FOR EDUCATION!
Our Race for Education was a huge success.  A BIG THANK YOU to our IHM Community for your support of our 13th Annual Race for Education. 
There were over 700 donors for a grand total of $31,942 raised for our IHM kids!!  161 students reached their $100 goal. The top two homerooms –Mrs. Rizzo's PreK3 raised $2,385 followed by     Miss Ebner's 2A at $2,225.
Our top school fundraisers tied for the top prize, Oliva and Grace Painter!  Congratulations, girls! 
We appreciate our Race Sponsors, Dr. Dawn Cute of Optimum Health Chiropractic, Norristown Brick, and Realty Broker Direct.   We would also like to thank Officer Davis of the 5th District for traffic control, Mr. Cawley for his amazing photos, Rose's Water Ice for the cool treats, and Circle of Sound for the music. 
 We will be busy this summer implementing race goals and putting this raised money to good use for our IHM kids! 
---
MAY PROCESSION THANK YOU!
Our school children did a wonderful job honoring our Blessed Mother on Friday May 13 at the May Procession.
It was a most beautiful occasion.
Special thanks to Fr. Quan, Mary Anne Kostic-King and all the teachers & staff who made it such a special event.  Thank you Traci Kovach for live streaming the procession!
If you would like to watch the May Procession go to the IHM School Facebook page.
---
The Rectory Office Hours
for the
MEMORIAL DAY HOLIDAY
Friday, May 27
9 am to 1 pm
Monday, May 30
CLOSED