---
Welcome to Immaculate Heart of Mary Parish!
I am delighted to have you as a parishioner and welcome all new members to our family. I hope that you will find our parish both spiritually and socially supporting and fulfilling.
At IHM, we know that we are all individual parts of the mystical Body of Christ. Working together, we find great joy in doing God's work here on earth. I invite and encourage you to join us as we pray, work and play together.
IHM parish was founded in 1952, in response to the need for a new parish in the growing area of Andorra and Roxborough. We have a very diverse parish of approximately 2,500 families. Our beautiful church was built in 1965 and seats approximately 1,000 people. We are also blessed to have an excellent parish elementary school that serves our young people.
If there is anything I can do to help you in your journey to grow closer to God, please do not hesitate to contact me or Rev. Samuel Verruni, our Parochial Vicar. Our parish is proud to offer many opportunities for parishioners to come together in faith. If there is a personal or family need that requires individual attention, know that our parish staff is always here to assist you.
I pray that you may find warmth and happiness in our parish. To our new members, I look forward to getting to know you personally in the weeks and months ahead. If you would like to schedule a time for a home visit and to bless your home please contact me or Rev. Verruni.
God bless you and your family and welcome to Immaculate Heart of Mary Parish.
Sincerely yours in Christ,
Rev. Edward J. Casey
Pastor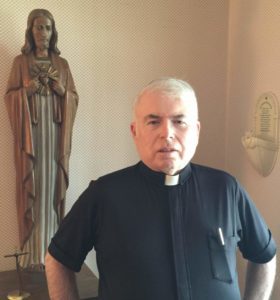 ---
March 30, 2021
To the School Community of Immaculate Heart of Mary Parish:
As you are aware Mr. Andrew Lowry, our Principal since August 2018 has submitted his resignation effective June 30, 2021. Mr. Lowry has taken a position at another Catholic school that is closer to his home in southern Delaware County.
I want to personally thank Mr. Lowry for his three years of service to our community. He has done an outstanding job leading our school, especially this last twelve months with the challenge of the pandemic. His strong and vibrant leadership academically, socially and spiritually have been a true blessing to the IHM community.
I have been in contact with the Office of Catholic Education regarding the process of hiring a new Principal. Sister Margaret Rose Adams IHM is the Assistant Superintendent for Philadelphia County and she will be serving as a consultant for us. A Search Committee is in the process of being formulated. The job opening and job requirements for the Principal position have been posted on the Archdiocesan website.
We extend our prayers and best wishes to Mr. Lowry as he begins a new chapter in his career as a Catholic School educator. Please pray to the Holy Spirit and St. John Neumann, founder and patron saint of our Catholic School System as we begin the search for our new Principal.                                                                             
Sincerely in our Lord,
Edward J. Casey, Pastor
---
          40 HOURS EUCHARISTIC DEVOTION             
The Annual Forty Hours Eucharistic Devotions will begin next Sunday, April 18.   All Forty Hours exercises will be in the Church this year.
Sunday April 18
Solemn Exposition will begin at the conclusion of the 11:30 Mass. The Blessed Sacrament will be exposed until 5 PM on Sunday when we will celebrate Evening Prayer.  Benediction will conclude Evening Prayer.
Rev. Alexander Masluk, Pastor Emeritus of Saint Martha Parish in Philadelphia will preach the Homily each night,
Monday April 19
Exposition will begin at the conclusion of the 8:30 Mass and will continue all day in Church until Evening Prayer and    Benediction at 7:00 PM.
Tuesday April 20
Exposition will begin at the conclusion of the 8:30 Mass and will continue all day in Church until Evening Prayer and  Benediction at 7:00 PM.
Please Note: During the 40 Hours Devotions on Sunday, Monday and Tuesday, the Sacred Heart Chapel will NOT be open.
---
15 Week Club Winners
Week 7
Mary Waldeck $300
Louis Di Cesari $100
Marcus Allen $100
Marie Rizzo $50
Carl F. Hood $50
Matthew Butterly $50
Helen Tracy $50
Dominic Cesareno $50
---
RACE for EDUCATION
It is time for Immaculate Heart of Mary School's Annual Race for Education, which will be held on Tuesday, May 11!!
If you would like to donate to our school fundraising page, you may do so here:
https://independent.pledgebrite.org/…/ihm-school-friends
We are shooting for a school goal of $25,000.00, so please know that no amount is too small!!
Feel free to email Traci Kovach at tuition @iheartmary.org if you would like to make an offline donation or if you have any questions.
Our IHM Parishioners are always so generous to our school.  The students of Immaculate Heart of Mary School thank you so much for your support!
---
Caregiver Support Group
Nourish For Caregivers is a Christ-centered Catholic ministry that supports practical, emotional, and spiritual needs of caregivers. This is for anyone   juggling the challenges of everyday life, health,   career and caring for a loved one, whether it be a family member with disabilities, an ill or aging    parent, spouse, friend or grandparent, in town or at a distance. We meet virtually on the third    Wednesday of the month, from noon to 1PM. There is no fee to participate, but you must pre-register in order to obtain online access.
To register, email jrose@chs-adphila.org. For more information about the Nourish For Caregivers ministry, visit http://www.phillyevang.org/nourish/
---
The casserole program for St. John's Hospice is still suspended but the good news is they have ordered a new truck.  However it will take a good 3 months for it to be delivered.  The driver did come to IHM to pick up the socks and toiletries that you have donated.
Thank you for continuing to donate these items.
We will keep you informed of their progress with their new truck.
---
The weekday Mass at 8:30 am will be held in church until further notice. The Sacred Heart chapel will continue to be open during the day until 6 pm as is has been.
Some general points to be made the faithful continue to be dispensed from the obligation to attend Mass on Sunday or the Holyday. If you are not well, or are uncomfortable coming out and coming to church by all means stay home. The Mass will continue to be live-streamed on Facebook at 9:30 on Sundays for the time being. We will not be using Hymnals or Missals.  Social distancing should be observed as well as wearing masks. Parishioners should bring their own hand sanitizer if they feel the need. The church seats 910 people so there will be more than enough room. Seat yourself accordingly when entering church. There is no need to be roping off pews. Use common sense courtesy with regard to social distancing, Obviously spouses and families should sit together. Receiving Communion in the hand would be prudent for the time being. At the Sign of Peace you can make a simple bow or nod to your neighbors around you.
Please note:  Mask wearing should be observed but if for some reason you cannot wear a mask please maintain social distancing.  No one can be refused entry to our Church because they do not have a mask.  This is a directive from the Archdiocese of Philadelphia.
The priest-celebrant will enter from the sacristy and return to the sacristy after Mass. We will not be greeting the people at the Cathedral Road entrance until we hit the next phase.
Right now the ushers will not be taking up the offertory collection at the usual time. There will be baskets by the altar rail, that you can place your offering in either before or after the Mass.   For the many parishioners who have been mailing and dropping off their offerings the last couple months, we cannot begin to thank you enough.  It is sincerely appreciated and has enabled us to continue to meet our parish obligations even with the large monetary drop off.
At Communion time do not all leave your seats all at once and congregate in a Communion line as usual. We can take our time leaving our pew and maintain the social distancing need. There is no hurry.  The priest is not going to rush back to the altar.

Please realize this is a very fluid situation and we will make adjustments as needed. Be kind to one another and be patient.
The parish staff is thrilled we have reached this next stage that enables us to resume the public celebration of Mass that unites ourselves to the Lord in the reception of His Body and Blood.

Father Casey
Although we have resumed Sunday Mass in the church, we are still live streaming the  9:30 Sunday Mass from our Facebook page:  (you do not need a personal Facebook page to watch the Mass.  You will be on our IHM Facebook page)
Click on IHM Facebook Page
The 9:30 Mass will be able to be viewed anytime after it airs live).
---
WordOnFire.org.  Don't forget Daily Mass is available from Bishop Barron's chapel in Los Angeles each day at 8:15 am EDT. In addition to Mass each day there are many other spiritual resources available from the Word on Fire Ministry. We have gotten much positive feedback from our parishioners who have utilized the Word on Fire Ministries. Check it out if you have not had a chance to do so.
---
This is a prayer used by the Archdiocese of Philadelphia on April 6, 2020.
A PRAYER FOR SPIRITUAL COMMUNION
My Jesus, I believe that you are present in the Most Holy Sacrament.
I love you above all things and I desire to receive you in my soul.
Since I cannot at this moment receive you sacramentally,
Come at least spiritually into my heart.
I embrace you as if you were already there
And unite myself wholly to you.
Never permit me to be separated from you.
Amen