---
Welcome to Immaculate Heart of Mary Parish!
I am delighted to have you as a parishioner and welcome all new members to our family. I hope that you will find our parish both spiritually and socially supporting and fulfilling.
At IHM, we know that we are all individual parts of the mystical Body of Christ. Working together, we find great joy in doing God's work here on earth. I invite and encourage you to join us as we pray, work and play together.
IHM parish was founded in 1952, in response to the need for a new parish in the growing area of Andorra and Roxborough. We have a very diverse parish of approximately 2,500 families. Our beautiful church was built in 1965 and seats approximately 1,000 people. We are also blessed to have an excellent parish elementary school that serves our young people.
If there is anything I can do to help you in your journey to grow closer to God, please do not hesitate to contact me or Rev. Samuel Verruni, our Parochial Vicar. Our parish is proud to offer many opportunities for parishioners to come together in faith. If there is a personal or family need that requires individual attention, know that our parish staff is always here to assist you.
I pray that you may find warmth and happiness in our parish. To our new members, I look forward to getting to know you personally in the weeks and months ahead. If you would like to schedule a time for a home visit and to bless your home please contact me or Rev. Verruni.
God bless you and your family and welcome to Immaculate Heart of Mary Parish.
Sincerely yours in Christ,
Rev. Edward J. Casey
Pastor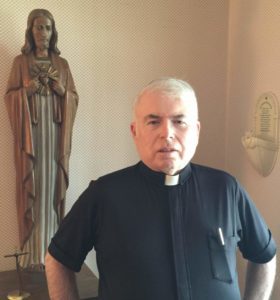 ---
Sunday, June 20th will be Fr. Sam's last Mass at IHM as our Parochial Vicar.
On behalf of myself, the rectory staff and the parishioners we thank  Fr. Sam for his years of service to IHM and wish him well  with his new assignment.
Fr. Sam will be missed by many but we pray he will be very happy in his new position.
Come to Fr. Sullivan Hall after the 11:30 Mass on Sunday, June 20th to wish Fr. Sam well,  God's blessings and to thank him for his 3 years here at IHM.
Please keep Fr. Sam in your prayers!!
Fr. Casey
---
St. John's Hospice will resume the Casserole Program.  The truck will be here starting Wednesday, July 7 and will then come the first Wednesday of every month.
Casserole pans are in the rectory office and can be obtained from 9am to 4pm Monday through Friday.
Thanks to everyone who participates in this program.